Jump Ropes for Fitness, Ropeless Jump with Carolies & Weight Digital Smart Counting
Free shipping & Fast delivery from the nearest warehouse.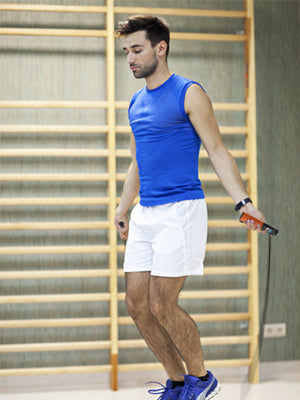 SOME TIPS OF SKIPPING
The main part of skipping rope is the wrist, not the whole arm.

The height of the jump should not be too high. Generally, 3 to 5 cm can be jumped.

During the rope skipping process, the breathing must have a certain rhythm.

When landing, you need to bend your knees slightly to relieve the impact of landing on your knees.
SPECIFICATIONS
Time Setting: 1 - 60 min

Weight Setting: 20 - 120kgs

Material: Steel & PVC(Rope) + Silica gel handle

Battery: CR2032 battery (included)

Rope Length: 300 cm / 118 inch

Automatic jump count: up to 9,999

Calorie consumption countdisplay: Up to 999
Effectively lose weight

Enhance physical fitness

Enhance hand-eye coordination

Increase body metabolism

Promote blood circulation

Prevent osteoporosis

Increase lung capacity

Relieve cervical and lumbar pain
LED SMART COUNTER
LCD display which shows weight, timer, calorie, laps. Set your weight, precisely counts time and it will show the number of laps you jumped and the calories you burned. It will improve workout efficiency and help you to achieve the fitness goals.
DURABLE STEEL ROPE
Steel rope protected by PVC sheathing makes it a more durable skipping rope. Durable and smooth PVC also maximizes its lifetime and avoids cracking or breaking.
HIGH QUALITY BALL BEARINGS
High-end ball bearings rotate smoothly and quickly, which ensures the rope's smooth, stable, and even rotation. Then you can enjoy a smooth jumping experience every time.
TURN OFF AUTOMATICALLY WHEN NOT IN USE
Built-in smart chip, automatically shut down when you are not using it, saving power consumption and prolonging lifetime.
COMFORTABLE NON-SLIP HANDLE
The anti-slip handle allows you to sweat a lot during exercise without causing the skipping rope to slip.
ALL ACCESSORIES
1 Exercise rope

1 Storage bag

1 Screwdriver

1 CR2032 battery

1 Manual

2 Non-slip handle(battery included)

2 Cordless ball

6 Cable ties
---